Welcome! Dongsam-dong Shell Midden Museum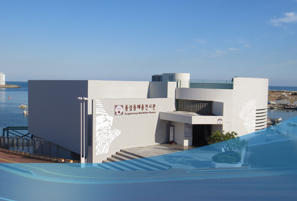 Through several excavations, at Dongsam-dong site, various fishes, shell fish and bones from animal including the comb-patterned pottery, stoneware, bone tools, mud-pottery, jewelry etc. were excavated. And also with an excavation examination of Busan Museum the oldest millet was found in the Korean peninsula. And a lot of Jomon Pottery and obsidian which shows the interchange relations between Neolithic period of Korea and Japan were excavated. Therefore it proved again it was an important remain to find out about the characteristics of Neolithic culture of Korea.
Therefore Busan museum opened the Dongsam-dong Shell Midden Remains and its' excavated artifacts, which are the representative artifacts of Neolithic Age, and tried to use these as a living educational place. For these Dongsam-dong Shell Midden Exhibition Hall was opened as a specialized museum on April 24, 2002.
Although this is a small sized exhibition hall, Busan museum shall try hard to display as much as we can while showing the history and culture of Neolithic period in Korea through Dongsam-dong Shell Midden Exhibition Hall.
History
1929

Japanese "OIgawa( teacher at Donrae Highschool)"first found the site.

1930

Japanese "Yokohama(the professor at Gyeongseong Imperial University)" excavated and examined twice.

1932

Oigawa, a member of Busan archeology association, excavated and examined twice.

1963 ~ 1964

Partial Excavation and Examination by American "Moore"(Wisconsin University)

1963 ~ 1971

3 Times Excavation and Examination by National Central Museum

Jul 26, 1979

Designated as a Historical Site No.266

Dec 1998 ~ Dec. 1999

Development Construction of Dongsam-dong Shell Midden Remains

May 1999 ~ Aug 1999

Excavation and Examination by Busan Museum(Dongsam-dong Shell Midden Remains Development Area)

Apr 24, 2002

Opened Dongsam-dong Shell Midden Exhibition Hall

Nov. 2004 ~ Dec. 2004

Excavation and Examination by Gyeongseong University Museum(Taejeongdae Entry Way Expansion Construction Section)

Jun. 2005 ~ Jul. 2005

Excavation and Survey by Donga University Museum(Taejeongdae Entry Way Sidewalk section)

Apr. 2006 ~ Aug. 2006

Donga University Museum, Underwater Mark and Prospecting Examination by Costal Resource Research Institute